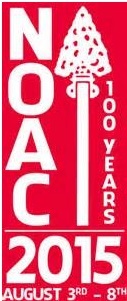 NOAC 2015
AUGUST 3 - 8
The Ta Tanka Lodge is forming a contingent for the 2015 NOAC.
Cost is $1350.00 per person (cost includes)
NOAC fees (registration, room and board)
Plane fare
Bus transportation
One night hotel room (night before NOAC starts)
Sign-up T-shirt and patch
2 Contingent T-shirts
Contingent patches
Payments:
---
Refund Policy:
If your funds are not paid current you will be placed on the standby list to wait for an available opening.
If you do not want to be placed on the standby list, you will receive a refund of all funds paid less the deposit of $100.00.
---
For more information on this event, please contact:
Steve Salyards at steve@laverneheights.us